Sum up and build your wealth.
Take control of your money. Easily organize your assets and liabilities and access them securely and privately. Make decisions and plan for the future with confidence.
Features empowering your financial decisions.
Built to make financial planning accessible and affordable, helping you to achieve your financial goals. With Sumio, you can take control of your financial future and make wiser, more informed decisions.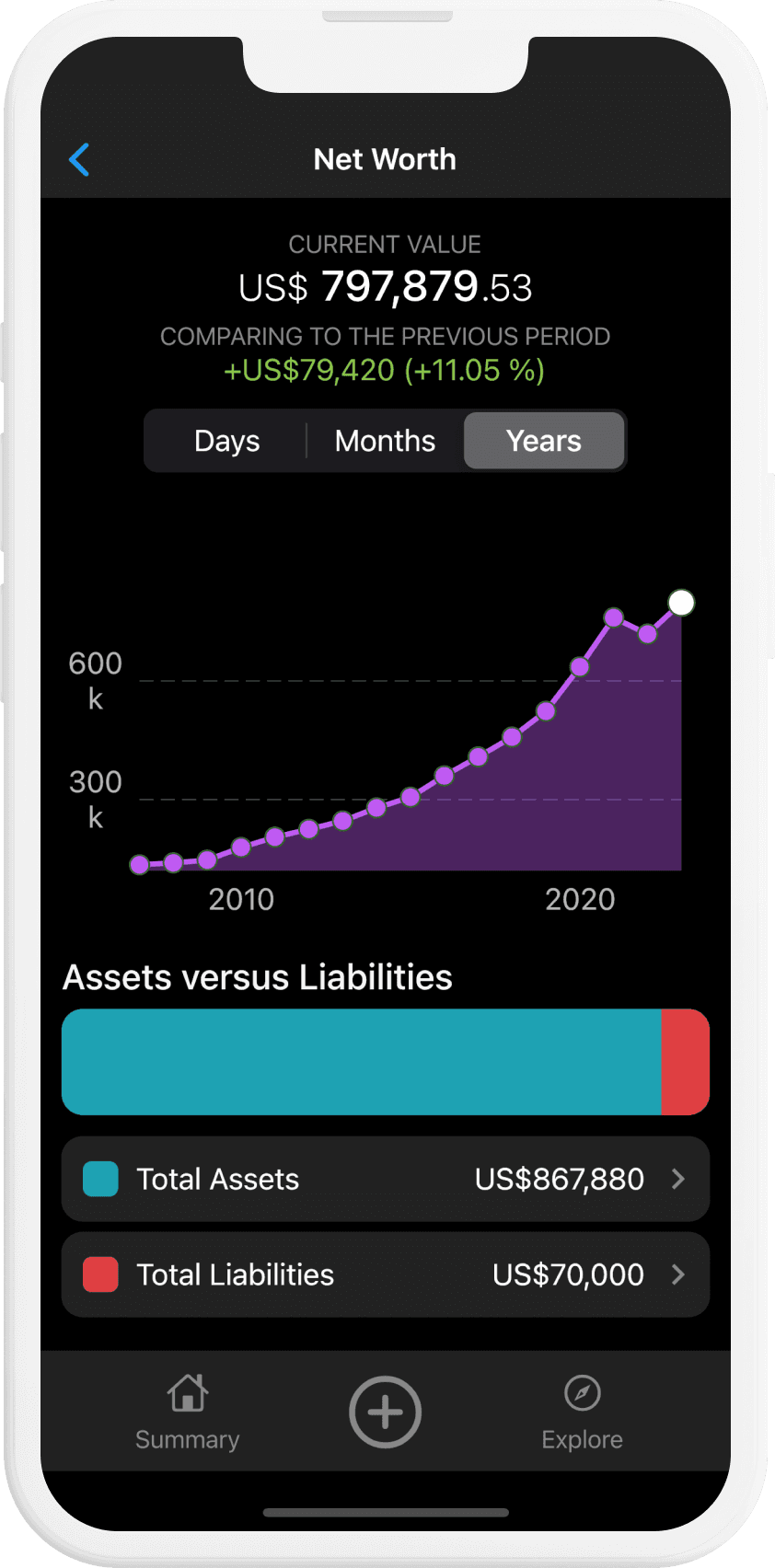 Effortless Net Worth tracking
It's time to stop guessing. Get the number we all should know to make the right money decisions – Net Worth.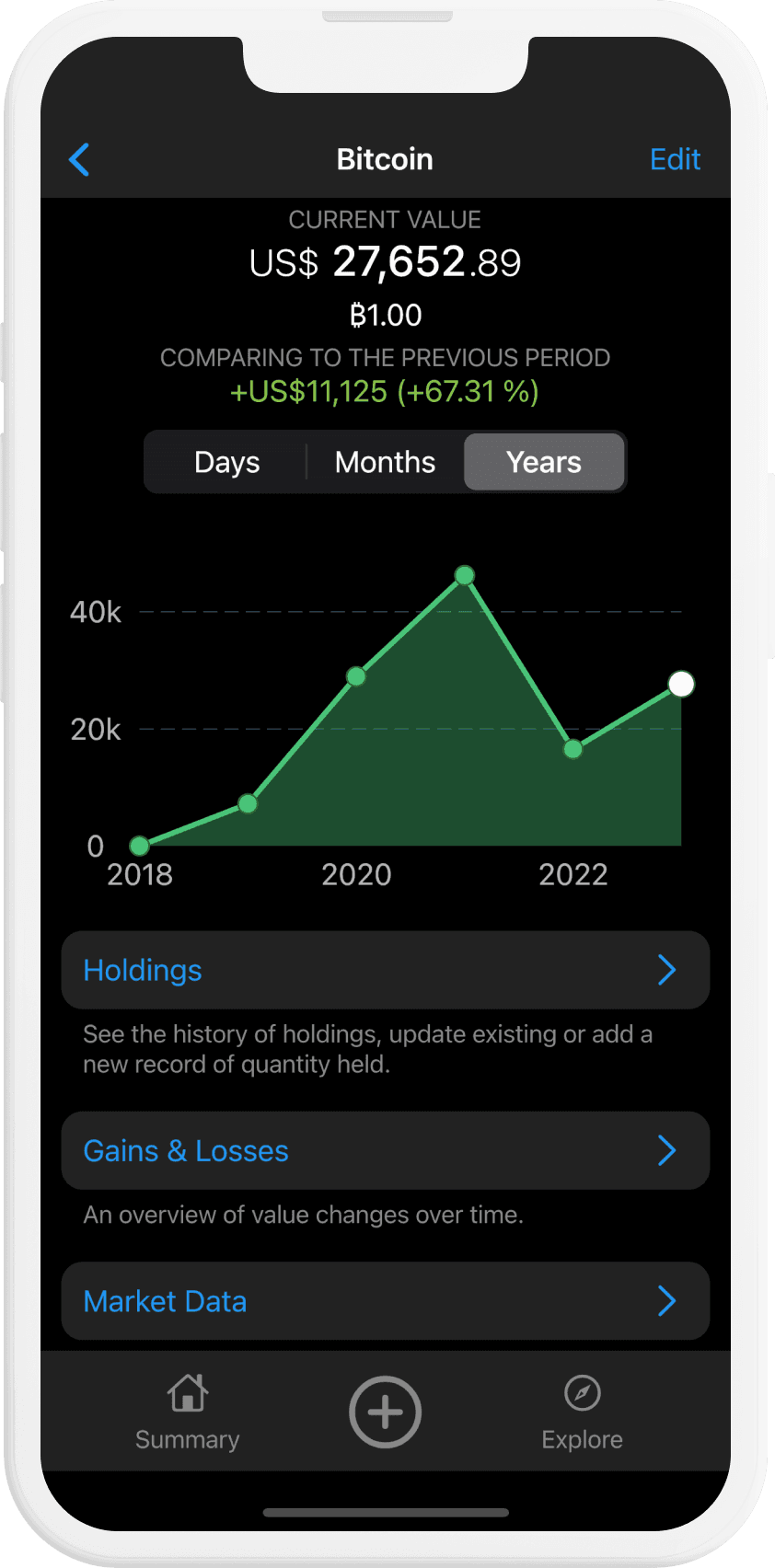 Automated portfolio tracking
Stocks, ETFs, cryptocurrencies, precious metals, and equities from U.S. and global markets. With Sumio you can monitor all your investments.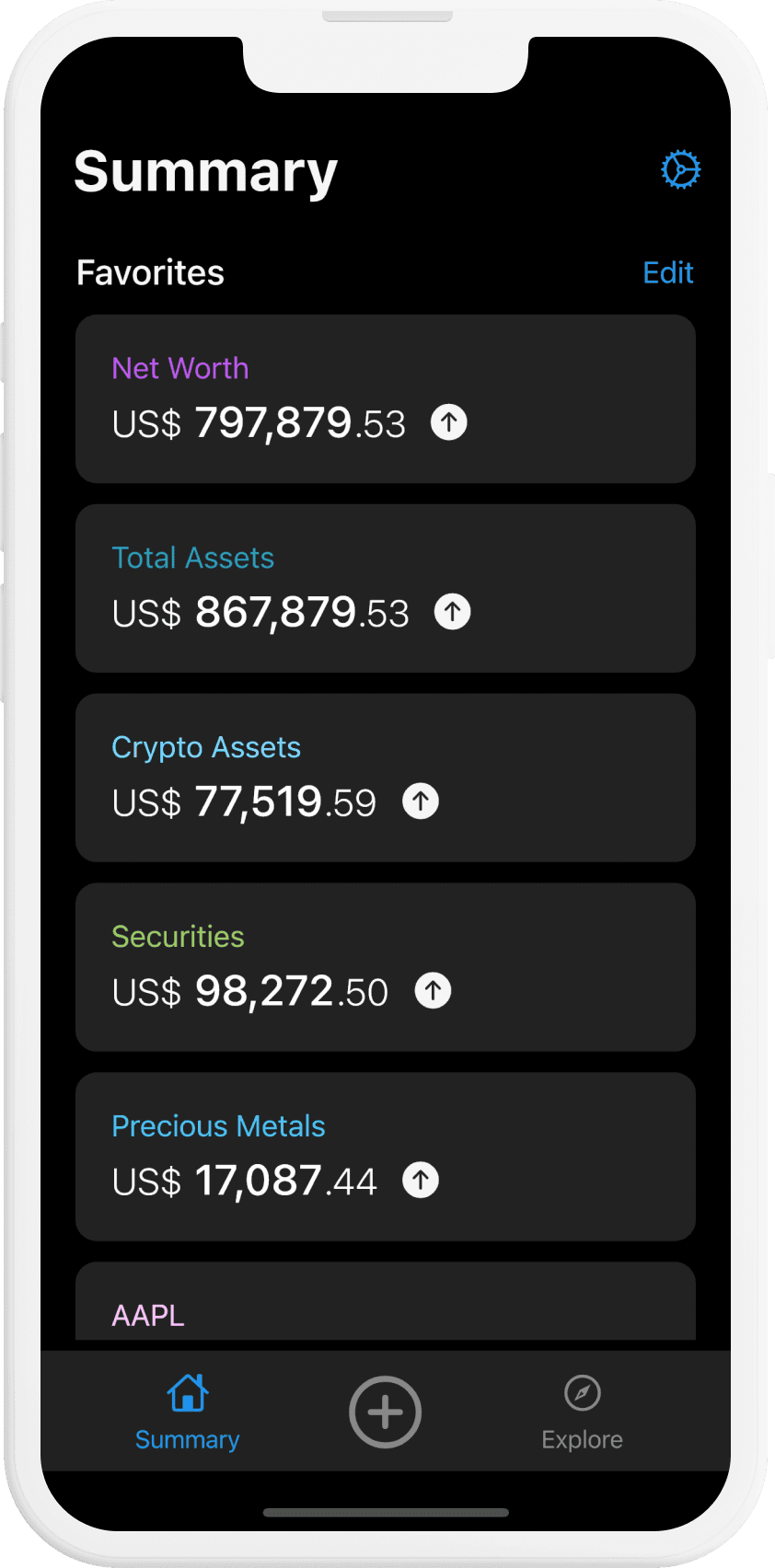 Customization to your liking
Build your personal financial dashboard with custom categories and favorite indicators.
It's time to take control of your finances.
Get a clear picture of your money and set on a path to build your wealth.
Key Metrics

Essential financial metrics are automatically calculated – Net Worth, Total Assets, Total Liabilities.

Multi-Currency

Use 100+ world currencies with automatic conversion to the default currency of your choice.

Market Data

Automatic market value updates for stocks, ETFs, cryptocurrencies, precious metals, and other equities from U.S. and global markets.

Backup & Sync

Back up and restore your data using your cloud storage account (Apple iCloud or Google).

Privacy and Security

Privacy-first and secure from the get-go. You have complete control over your data.

Security Lock

Secure access to Sumio with your Passcode, Face ID, or Touch ID.

Custom Categories

Create your own categories for assets and liabilities.

Visualisations

Clear and concise charts to easily evaluate your financial standing.

Watchlist

Monitor the market value of stocks and crypto from the US and global exchanges.

Gains & Losses

An overview of market value changes over time for your investments.

Allocation

Charts illustrating the proportional distribution of your assets and liabilities.
Users love Sumio. And we love our users.
Join thousands of users who enjoy Sumio, a privacy-first app for financial planning.
Simple pricing.
Maybe you're just starting to build your wealth or you're a seasoned investor, Sumio is designed to help you wherever you're on your journey.
Free
$0
You have a few assets and maybe some liabilities too. You're beginning to build your wealth. Get started with Sumio for free.
Track up to 5 assets and unlimited liabilities

Explore market data

Use predefined categories
Get started for free
Premium
$3.99$19.99
You have various assets and you want to keep track of all of them. You're serious about your retirement and want to achieve your goals.
Unlimited assets and liabilities

Unlimited market data

Custom categories

Security Lock (Passcode, Face ID/Touch ID)

Backup & Sync

Watchlist
Start your free trial
Frequently asked questions
If you have anything else you want to ask, reach out to us.
What can Sumio help me with?

Sumio provides answers to important questions related to financial analysis and planning. What is my Net Worth and how is it evolving? What is the total value of my assets and liabilities? How are my assets and liabilities allocated? What are the market value and allocation of my portfolio and investments? How are my portfolio and investments evolving?

What data does Sumio get about me?

We don't know anything about you personally. We do not collect any personal data. The app is not following you. We only get diagnostics and analytics to help us ensure the quality of the app and understand if Sumio features work.

Do I have to enter the data about my assets and liabilities manually into the app?

Yes, but it's as easy as creating contacts or storing phone numbers. Sumio automatically updates the exchange rates and market values of your holdings (stocks, ETFs, cryptocurrencies, precious metals).

Where is the data stored?

By default the data is stored on your device – the phone or tablet on which you have installed the app. Data is encrypted using advanced encryption standards, similar to banking applications.

What currencies does Sumio support?

Sumio supports more than 100 world currencies. You can choose from all major world currencies, but also exotic ones.

For which markets can Sumio obtain data?

Sumio can obtain market data for stocks, ETFs, crypto assets, precious metals, and other equities from more than 50 markets (exchanges in the USA, Canada, Europe, Asia, South America, Australia, and Africa). We are constantly working on adding more market data.

Can I connect Sumio with my broker, wallet, or bank?

Not right now, but we are testing available solutions to enable our users to get their data automatically (e.g. Open Banking APIs). Please stay tuned.

What is your business model?

Our business model is based on premium subscriptions. We are independent developers and we offer the app as a premium product to users who want comfort and privacy when managing their finances.

Are you financial advisors?

No, we are not financial advisors. We are not affiliated with any bank or financial institution. We are a start-up founded with the ambition to build privacy-first products for financial planning and wealth management.

What benefits do I get with a Premium Subscription?

You unlock all Sumio features. You can track an unlimited number of assets, create your own categories, get unlimited market data, use Backup & Sync, Security Lock, and soon more. You can try a free trial of Premium Subscription.